Your gifts support all three campuses – the Museum of Ventura County, the Agriculture Museum, and our "third campus" – free online programs & content.
Virtual Education Modules • 360° Virtual Tours • Puzzles • Quizzes and Games
Rapid Response Collecting – COVID-19 and Activism • Digitized Photograph Archive • and more
There are many ways of making a gift to support the Museum of Ventura County
Express your personal passion for history, the arts, exhibitions, children's programs and education, and the collection by making a contribution to the Museum! Your donation supports the Museum's ongoing vitality.
Donors can also make contributions to acquire art and historical pieces for the collection or make outright gifts of them. Most gifts can be pledged for payment over a 5-year period.
Gifts of Cash
Cash gifts allow the donor to receive full tax benefits if they itemize deductions. Gifts of all sizes are appreciated and can be designated to benefit a particular program or collecting area within the Museum. Click here to make your cash gift today
Matching Gifts
Many companies match donations made by their employees to 501(c)(3) organizations, or provide grant opportunities to such organizations for which their employees volunteer. Find out if your employer has such programs, and the museum will provide any information they would need.
Be a GEM! Give Every Month
Give a monthly recurring gift to the Museum by filling out this form.
Gifts of Art & Historical Items
Another way to create a permanent legacy at the Museum of Ventura County is through the bequest of art. A promised gift or collection that the Museum has agreed to accept adds breadth and depth to the Museum's permanent collection. Giving artwork, historical artifacts and documents ensures that the County's artistic and historical legacy remains intact and accessible.
Written policies outline the types of objects and the procedures by which they are accepted into the collection.
For information about donating art or historical materials please contact the Smith-Hobson Family Collections Manager Renee Tallent at rtallent@venturamuseum.org or the Research Library and Archives Director Deya Terrafranca at dterrafranca@venturamuseum.org.
During COVID-19, the Museum is not accepting donations of items. However, staff is able to consult and speak with donors about planned gifts.
A Commemorative Tile in the Museum Plaza
A $1,000 gift in honor or memory of someone is recognized with installation of a commemorative tile that will remain outside the Museum for years to come.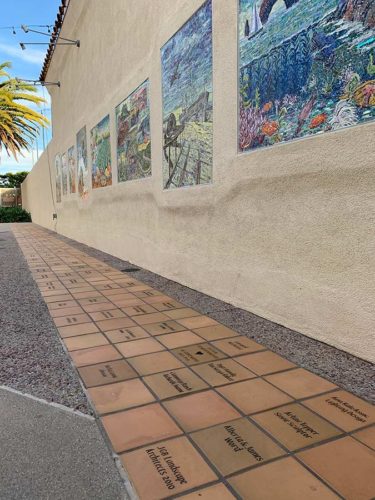 Other ways to Donate
Estate Planning
Memorial + Honorariums
For more information about donating to the museum:
Contact Eric Knight, Development Director
eknight@venturamuseum.org | 805.653.0323 x305