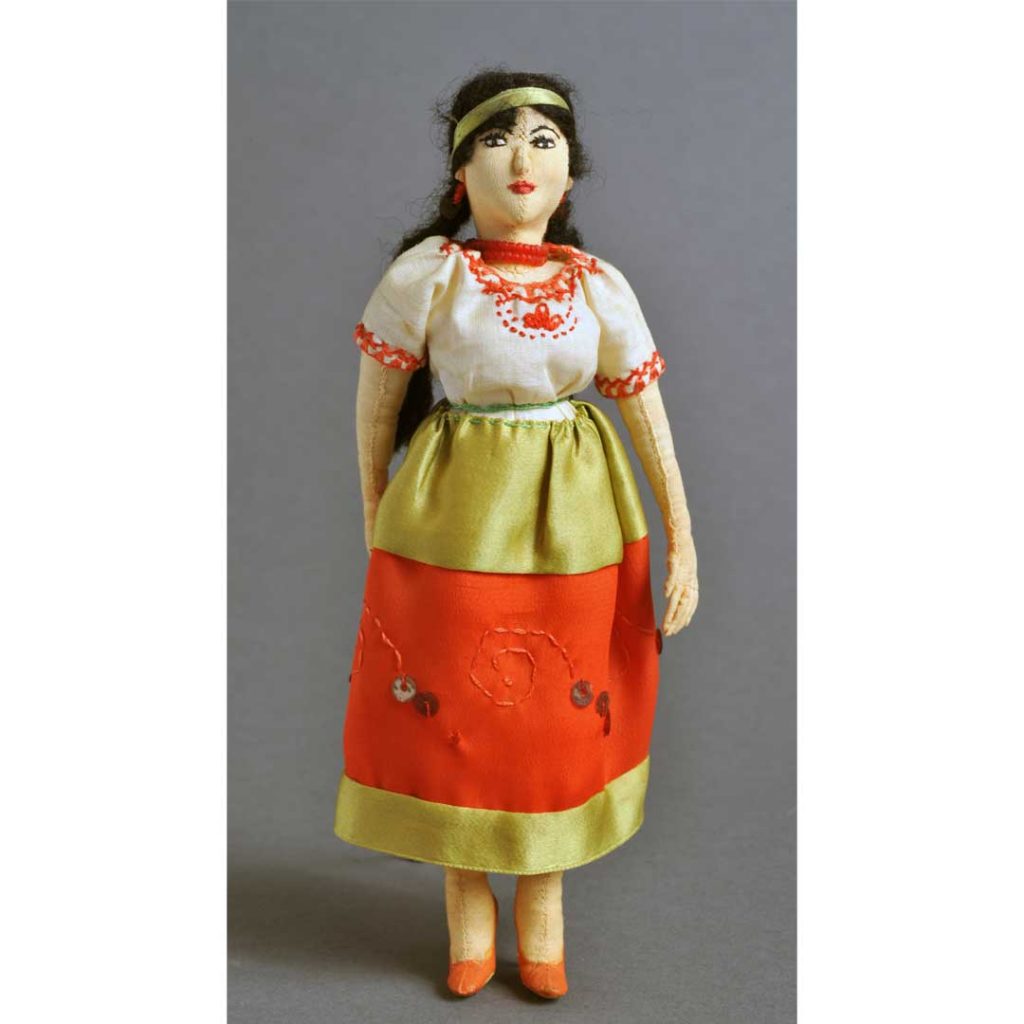 Doll, ca. 1920-1930
Made by Maura Flores Olney (1899-1983)
Accession #1979-47.1
Our Collection celebrates extraordinary artists. At age 16, Maura Flores and her family moved to Santa Paula where she worked as a lemon grader for the Limoneira Company. Maura created these intricate, tiny dolls using people she knew as models, bringing each to life out of cloth. She was a true visionary with little training who, thanks to her benefactress, Alfrida Teague, attended art school in Pasadena and spent time as an artist-in-residence at Padua Hills in Claremont, California.
Chumash Basket, Simi Valley
Made of Juncus and Pitch
Accession #1986-24.1
Our Collection honors our indigenous people. The Chumash envision a universe where the balance and order of all elements is critical. Used for food processing, storage, serving utensils, protection, trade or ceremonial uses, each basket was specially crafted. Today, they stand the test of time, weather, and usage. There were no sketches or blueprints to work from, but rather thousands of years of wisdom and tradition woven into each stitch.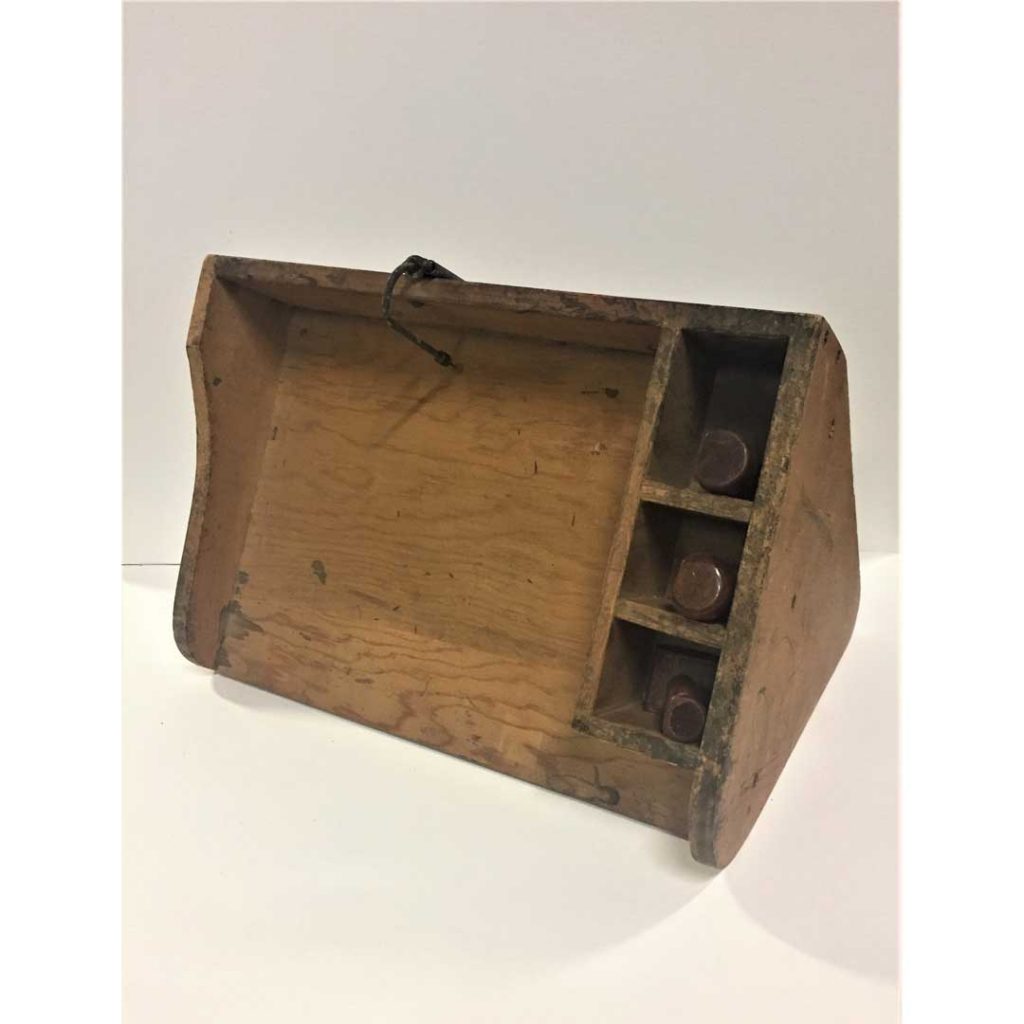 Citrus Packer's Hod, ca. 1905-1930s
Used in Fillmore, CA
Accession #1991-29.1
Our Collection pays tribute to our agricultural heritage. Providing jobs and food for Ventura County and beyond, the citrus industry plays an important role in our economy. This tray, called a hod, fit over the top of citrus crates and held all the stamps, packing tissue and supplies needed by workers to get the produce ready for market.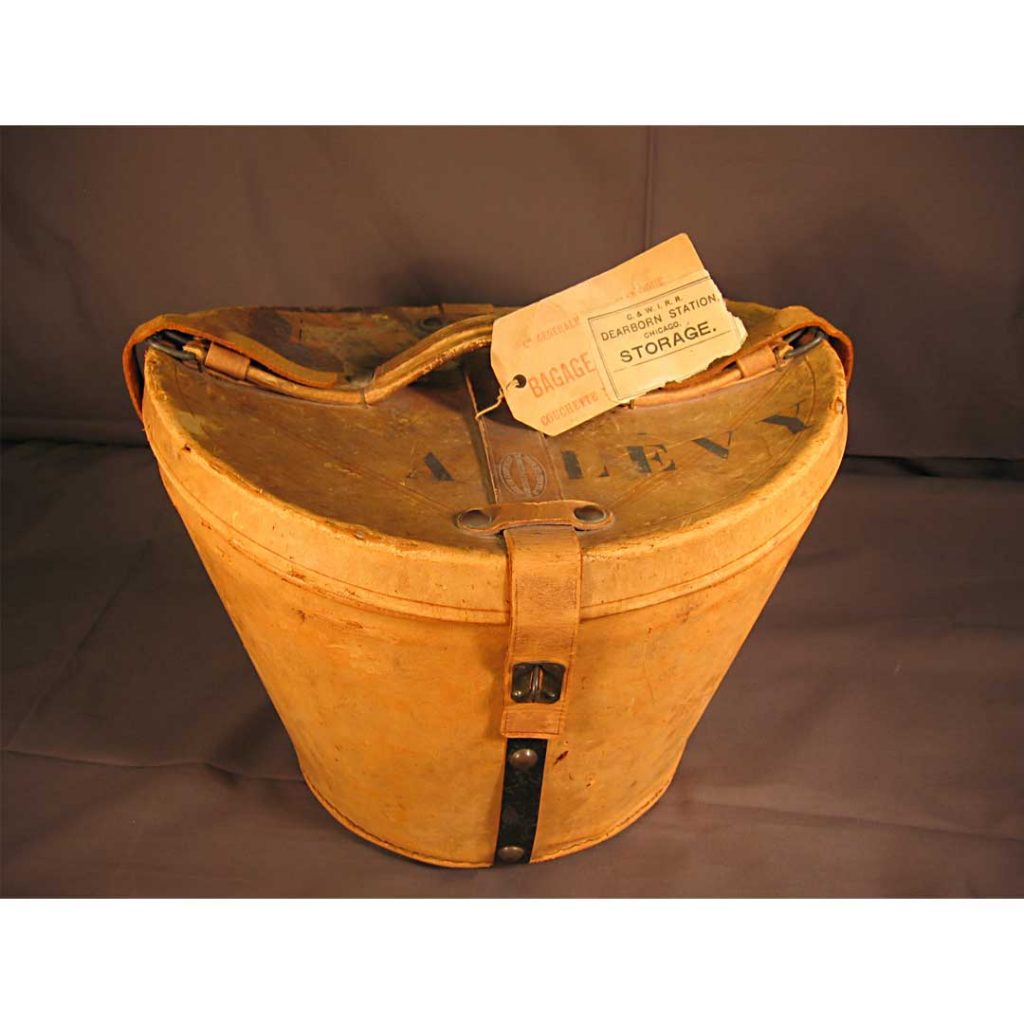 Top Hat Box, ca. 1902
Made in France
Accession #1995-11.15
Our Collection highlights the achievements of immigrants from all over the world. Achille Levy came to Ventura County from France in the 1870s. Here he grew his business from agricultural broker at the Port of Hueneme to the largest locally owned bank for 112 consecutive years. After founding the bank, he briefly returned to his homeland of France and on his return, he brought back a top hat to match his new business stature.
Fire Bucket, ca. 1880-1900
Used by Ventura Hose Company No. 1
Accession #1931-27.1
Our Collection celebrates the community's first responders. A fire protection report from 1892 listed Ventura's line of defense as 70 volunteer firefighters divided between 3 hose companies and a volunteer Chinese company, 1 hook and ladder truck, 2 hose carriages, 2800 ft of hose and a bell alarm. From early equipment like this bucket to stories of the extraordinary response after the Thomas and Woolsey Fires, we preserve the history of those who sacrifice to keep our community safe.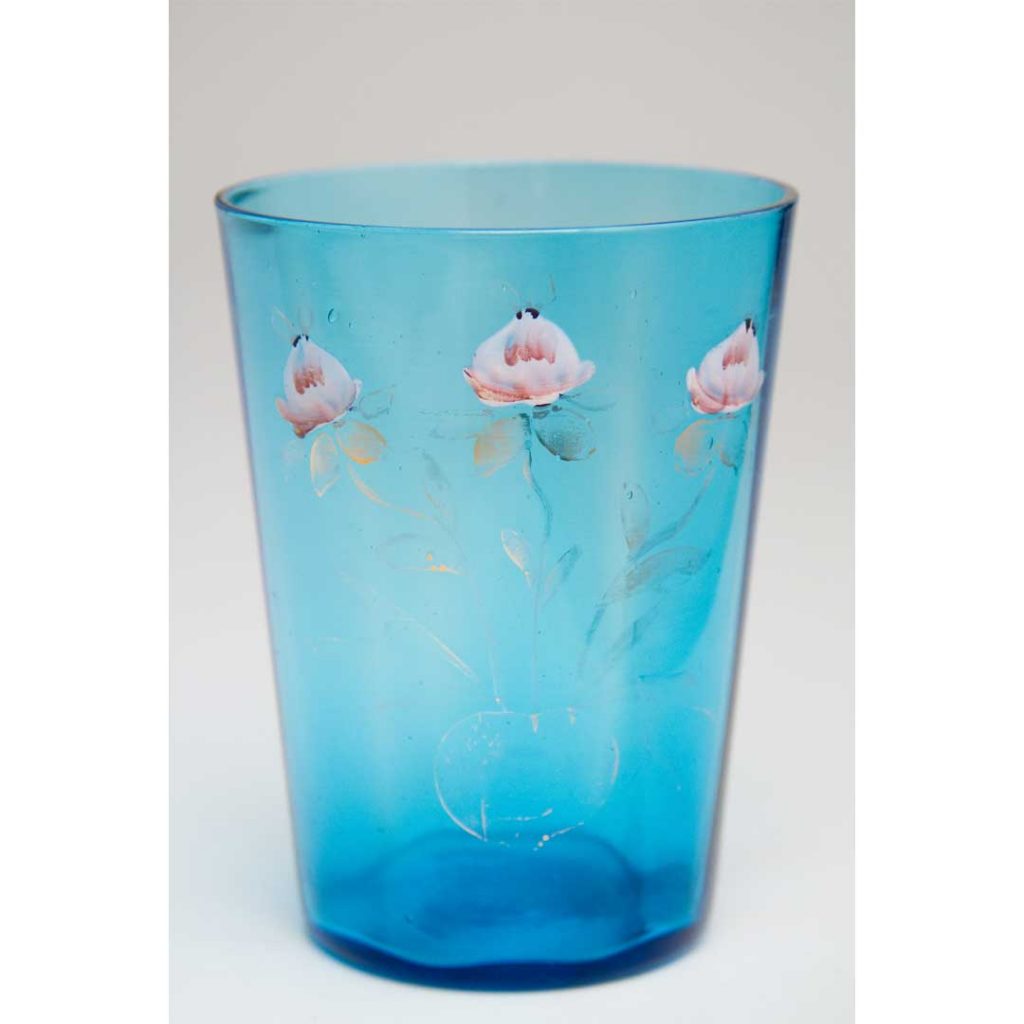 Blue Glass Bottle, 1893
Made by "Nina Rosita"
Accession #1981-26.1
Our Collection reminds us of the bonds of family and community. On the day Raymond Garcia came into this world in 1893, his godmother known to us only as "Rosita" gave him this hand-painted blue glass. Not too much is known about Raymond except that he lived his entire life in Ventura. After Raymond left this world in 1977, the aqua blue drinking glass remains as evidences of his love and respect for his "Nina Rosita."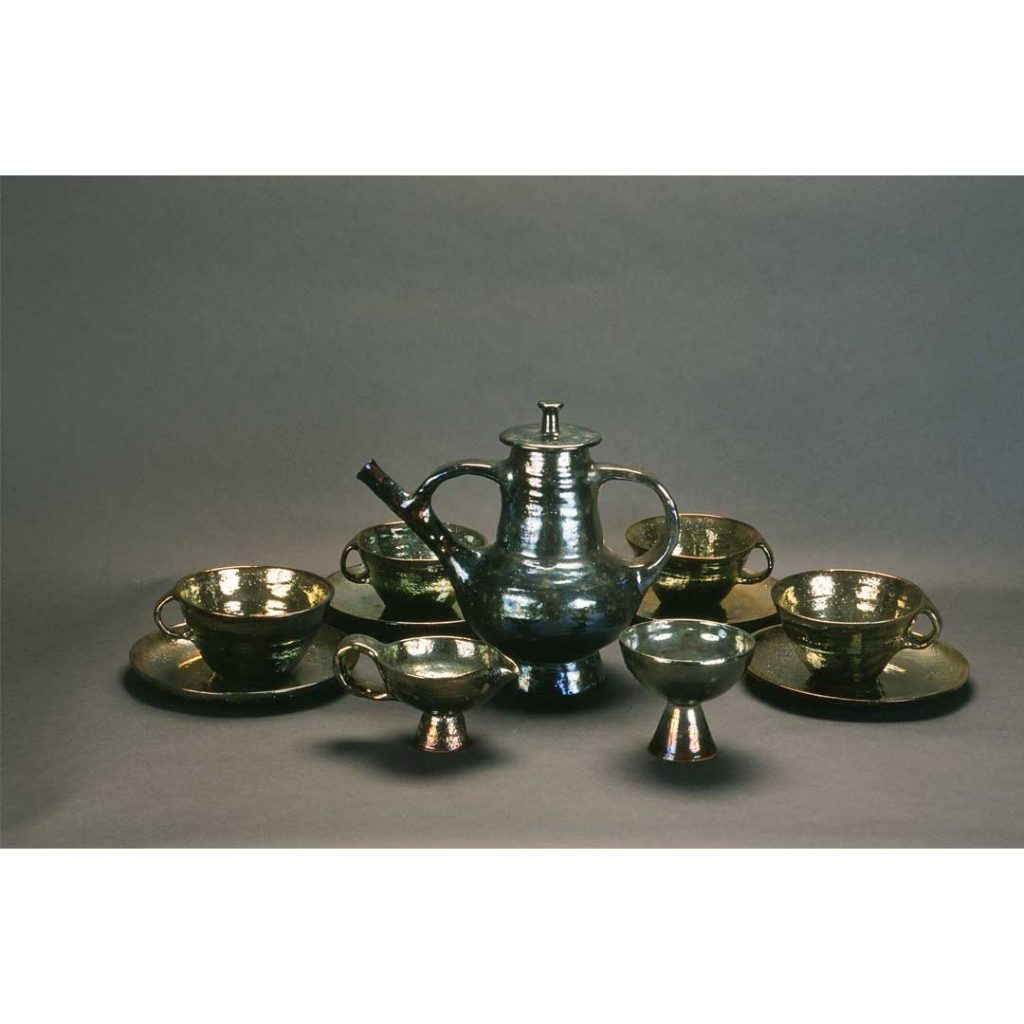 Coffee and Tea Service, ca.
1970-1990
Made by Beatrice Wood (1893-1998)
Accession #2001-5.1
Our Collection celebrates extraordinary artists. Beatrice Wood was an important contemporary artist, craftsperson and writer. Combining the spirit of Dadaism, Modernism, Eastern philosophy, folk art and ethnic jewelry ornamentation in her ceramics, her work reveals a mastery of form. It is impossible to separate her life experiences from the work she created, as she truly mastered the art of life. Her last 25 years were arguably her most productive, spent writing and creating work to satisfy a growing market for her ceramics.
Marine Clock, c. 1850-1870s
Used by Joseph Wolfson on Ventura's Wharf
Accession #0000-4.53
Our Collection preserves our commercial history. In the 19th century, when the health of a city's economy relied on access to markets, poor roads stymied transportation of goods and agricultural products in and out of Ventura County. The first pier built in Ventura in 1872 increased cargo and passenger trade for the county. Mr. Joseph Wolfson, son-in-law of Juan Camarillo, spearheaded and operated the wharf in its infancy.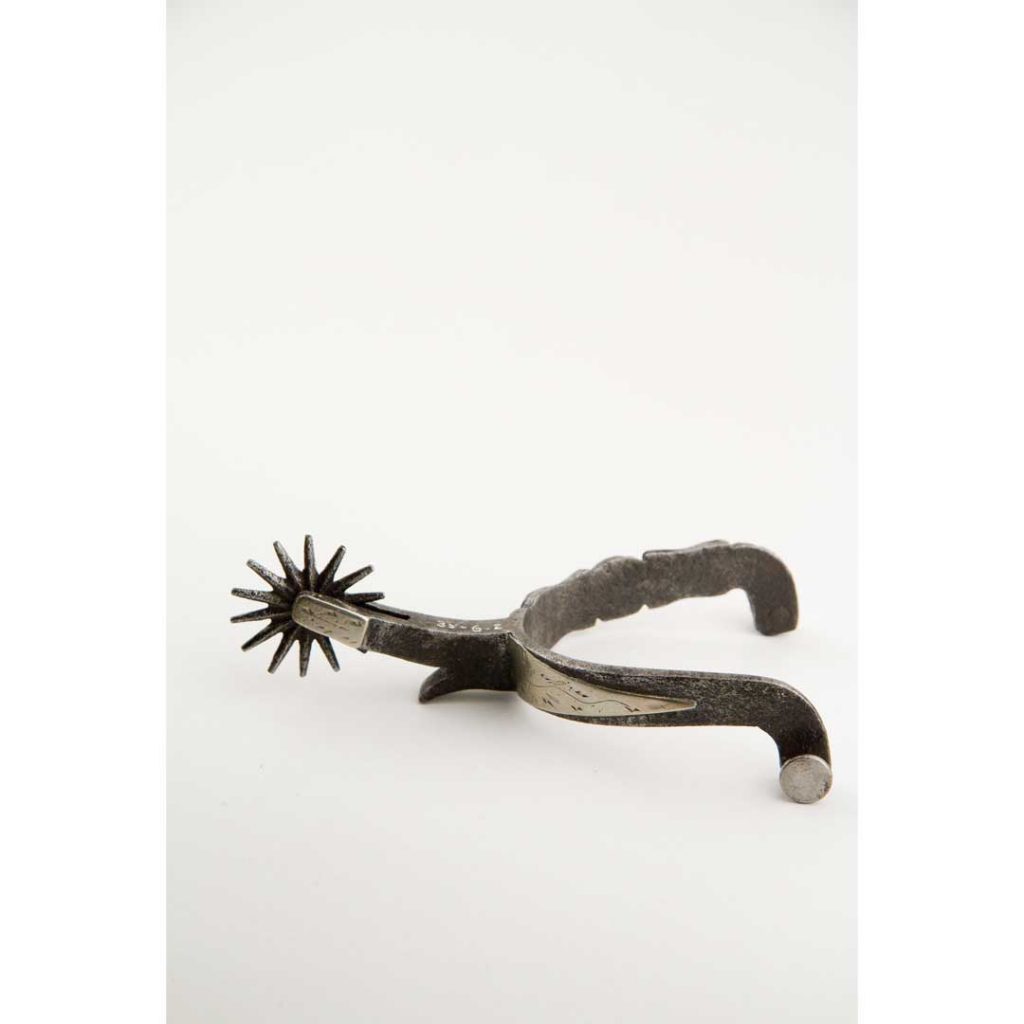 Silver Spur, 1885
Made by Vicente Mardueno (1865-1933)
Accession #1935-6.2
Our Collection acknowledges our ranching heritage and multigenerational craftsmen. Vicente was born in Santa Barbara the son of metalsmith, Jesus Mardueno. Following in his father's footsteps, Vicente became a renowned bit and spur craftsman in his own right. In 1883, he moved to a ranch near Sea Cliff in an unincorporated portion of Ventura County. A couple decades later, he opened a shop on Main Street sought out for his expert silver inlay and engraving work.