"El Oz" Signing & Reading with David Damian Figueroa and Dolores Huerta
The book is intended for ages 8 and up and was written as something for families to read and experience together.
12:30PM – Student musicians from the Inlakech Cultural Center in Oxnard will be coming to play and welcome Dolores Huerta to the Agriculture Museum.
1:00PM – Books are available for purchase (all proceeds donated by Mr. Figueroa to the MVC), and Mr. Figueroa is available to sign copies
2:00PM – Reading from El Oz by author David Damian Figueroa
Followed by Q&A session with labor rights legend Dolores Huerta.
Author, producer and farmworker rights activist David Damian Figueroa debuts his second book, "El Oz," a new children's book for ages 8 and up that centers around Dolores, a young Mexican girl from a fictitious town El Pueblito de los Milagros, and her chihuahua named Pepito who find themselves in a strange land after a violent rainstorm. There, they encounter a series of fantastical characters and wild adventures as they seek the elusive El Oz to help them return to their home. David Damian grew up working in the fields in Buckeye and Yuma, Arizona – the birthplace of Cesar Chavez. His two official hometowns and his family provided the inspiration for "El Oz."
"El Oz" is already #11 in the Fiction Bestseller List at Publisher Lulu.com, the largest independent bookstore in the world. "El Oz" is currently available globally at online retail outlets including, Barnes & Noble, Amazon, GooglePlay, Google Books, Apple Books, Lulu.com, Kindle, Kobo, and Walmart, among others.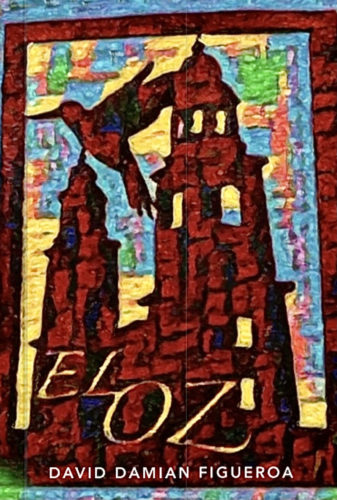 Book Synopsis: A Mexican girl from El Pueblito de Los Milagros, and her devoted Chihuahua, Pepito, live on a ranchito with Tia Tonia and Tios Ozvaldo, Wilfredo, Pablo, and Leonardo. Dolores is accustomed to living a simple life filled with folkloric dancing, daily chores of feeding the farm animals, laundry, and cooking meals for the family. Even though Dolores' tia and tios profit from the crops they grow on their ranchito, they still struggle to compete in the changing economy. Their efforts to carve out a traditional living prove futile. With the threat of losing the farm, Tio Ozvaldo makes a difficult decision to travel to the City of Angeles to find work and send money back to the family. Meanwhile, making regular payments for the ranchito to the insufferable landlord, Señora Vicenta becomes increasingly tricky. A sudden rainstorm hits. Dolores and Pepito take cover falling asleep under a large tree. When they awake, they find themselves in a strange land. A place where flowers with faces sing and her dog, Pepito, can now speak. A hummingbird guides them to the guardian Necaxa, who gives Dolores a red heart-shaped necklace for protection, and instructs Dolores to follow her own heart down a talavera tiled path to Ozlandia to meet El Oz. Only he can help her to return home. Along the way, Dolores and Pepito meet Necaxa, Los Chiquitos, El Empresario, and befriend Welo, Hierro, and El Leon. They help protect them from the evil and wicked La Chaquetza and Los Malalas.

About the Author: David Damian Figueroa is an activist, community organizer, storyteller, poet, filmmaker, and music producer who grew up working in the agricultural fields of Southern Arizona. As a child, his mother taught him the art of positivity through traditional Mexican regional songs, storytelling, and dichos (sayings) to help pass the time during long hot days in the agricultural fields and when they cleaned houses together. David Damian has previously published: "A Reminder to My Twenty-Three-Year-Old Self: A Book of Quotes, Thoughts on Life, and Personal Wisdom. El Oz is his second book. David Damian is executive producer of "Pepe Serna Life is Art," a documentary about the amazing life and career of veteran actor Pepe Serna. The film was an Official Selection of The Palm Springs Film Festival. David Damian also produced "Abuelo," a short film starring Pepe Serna which is admitted to the 2022 Cannes Film Festival's Market Section. He is also executive producer on "Food Chains," a documentary about the plight of U.S. farmworkers that premiered at Berlinale – The Berlin International Film Festival.