In this module, you will find resources for kids and adults to learn about the Mediterranean-Climate Ecosystem. Included are two self-directed learning activities about the Mediterranean Climate and the top crops in Ventura County.
Activity#1: Ventura County is in a Globally Rare Mediterranean-Climate Ecosystem
-For All Ages (with content identified for elementary and middle school grades)
This activity features learning resources focused on helping kids and families learn what an ecosystem is and how Ventura County is located within one of five areas in the world that has a Mediterranean Climate. Resources include maps, videos, websites and more!
It is springtime in Ventura County, and we can all enjoy our unique Mediterranean-Climate.
That means we have hot dry summers, and mild wet winters. Only 2% of the Earth's surface has this globally rare Mediterranean-Climate Ecosystem. Most of this habitat is found along the Mediterranean Sea in Europe, the Middle East and North Africa; but these conditions are also found in places like: Chile, Southwest Australia, Southwest South Africa, and… California!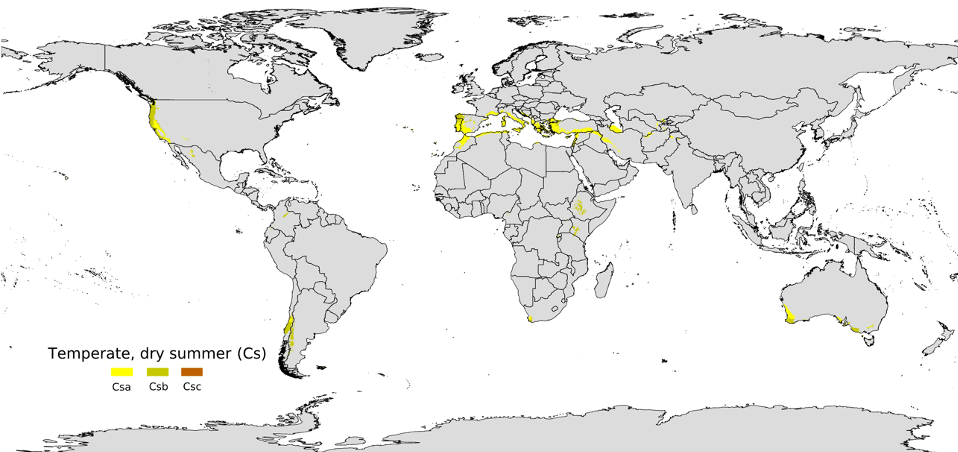 Here in Ventura County,
we also live in this rare Mediterranean-Climate Ecosystem.

"What is an ecosystem?" – Great question!
An ecosystem is an area on earth that has a type of climate (weather during the seasons and through the year), and plant and animal life that lives in the climate.
Recommended Grades 7-8
In this 5-ish minute video, an expert in Chaparral, a woody shrub that grows in our Mediterranean-Climate Ecosystem, provides an entertaining lesson on climate and the chaparral plant community.
This 7-min. from the University of California Natural Reserve Systems goes into greater detail about the relationship between the ocean and land in a Mediterranean-Climate Ecosystem:
Recommended Grades 3-6
Ducksters explores World Biomes and Ecosystems. You'll learn the balance and cycles of these important environmental systems.
Online Games
Choose from 4 different virtual "ecosystems" and manage the plants and animals in each. How long will your ecosystem last!?
Play Dr. Frankenstein to make your own creepy creature! Combine different parts of different animals in this game by Arizona State University Biology Lab.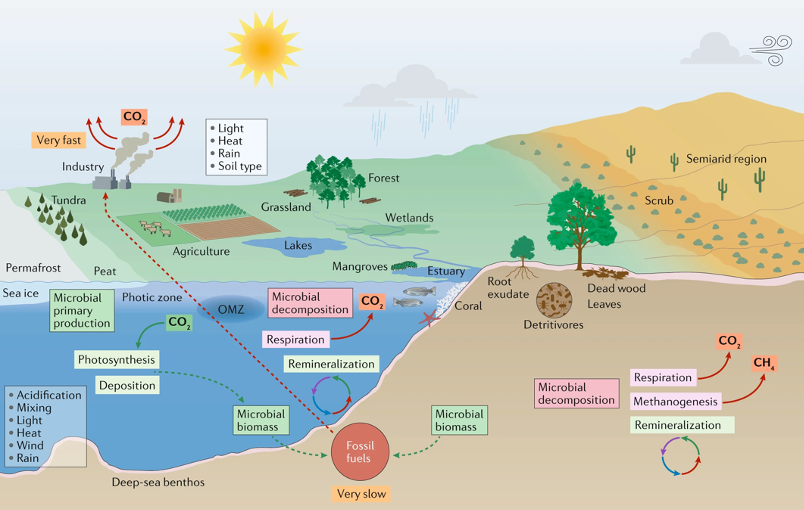 Activity #2: Growing Food in a Mediterranean Climate: Learn Some of the Top Crops!
Mediterranean farming areas have unpredictable rainfall, mild temperatures, irregular topography (landforms), and are close to the ocean. Commercial agriculture (farming to sell crops and other goods) in these areas includes the categories of citrus fruits, olives, figs, dates, grapes, vegetables, legumes, cereals and grains.
There are five major regions in the world having Mediterranean type of agriculture: California, The Mediterranean Basin, Central Chile, Southern Part of South Africa, and lower Murray South Australia.
Let's start by looking outside of California at what crops a few other countries in Mediterranean Climate regions are growing:
LOWER MURRAY,
SOUTH AUSTRALIA
Cereals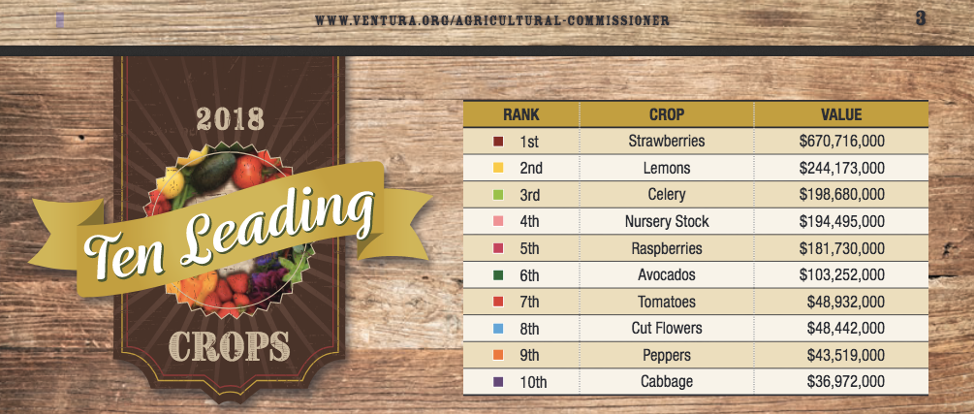 Have you ever had a chance to taste (or smell) any of these crops?
Are they worth paying money for? A lot of folks thinks so, and the proof of this is how much money each crop (fruit, vegetable, etc.) makes each year!
Using the table above, explore these questions (write down your answer or tell your learning partner):
What was the #1 producing crop in Ventura County for 2018?
What was the #2 producing crop in Ventura County for 2018?
Take a look at the difference in value between the #1 and #2 producing crops for 2018. Can you figure out how much more the #1 crop made over the #2 crop in Ventura County? (hint: you need to subtract the value of #1 crop from that of #2 crop)
To see how much money all of the TOP 10 Crops made in 2018 add all of the dollar amounts (or "Values"). The sum of these 10 dollar amounts/values will give you your answer!
And now (drumroll please) it's time for us to give you…LEMONS!
In the history of Ventura County Agriculture, lemons have been the top #1 or #2 crop every year. Now that's a "lemon" I'd like to buy! Take a moment and enjoy the short video below, and then explore the historic "top crop" charts. Use the questions below to gain a greater appreciation for our local citrus champion of Ventura County…the LEMON!
Ventura County (California) Lemons. Enjoy this short video that features our County's own City of Santa Paula!
Learn more about Ventura County's 2019 #2 top crop (A Bonus feature is that you will learn how to select the juiciest lemon the next time you go shopping with your family!):
Now let's compare the top ten crops from 2018 to Ventura County's past crop rankings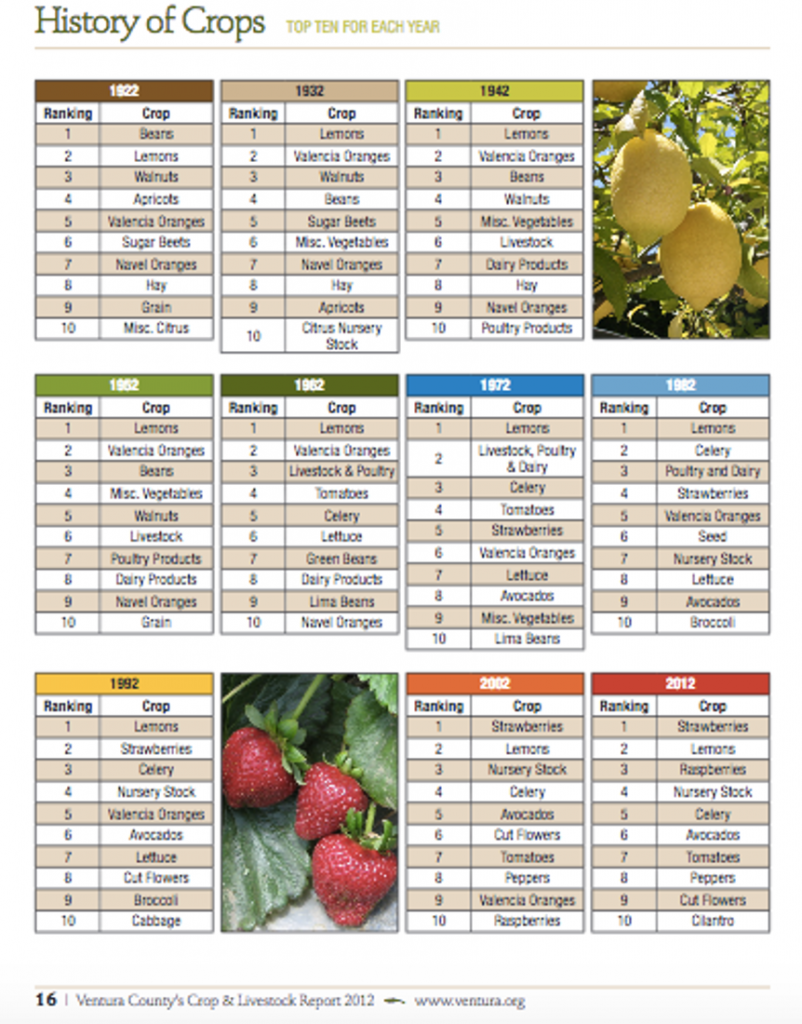 Here are some questions to answer using the History of Crops table.
What was the Top Ten Crop in 1922?
What years were Lemons ranked #1 on the Top Ten Crop list?
What was the #1 Top Ten Crop for 2002? Compare that crop to our #1 crop in 2018.
What patterns do you see in our top producing crops since 1922?
What crop has been on the top ten crop list since 1922? (hint: it can be a little sour)
Check it out! Full publication of our current and past crop reports can be found on the Ventura County's Agriculture Commissioners website.
Do you have any of the Ventura County top crops in your home right now?
Next time you enjoy them, be sure to think of (and thank!) our local agricultural workers, farmers, and our Mediterranean Climate!