During this COVID-19 pandemic, families (including kids) are being asked to adhere to guidelines—or even mandates—that will "Slow the Spread" of the coronavirus.
The goal of this combined effort is to protect our most vulnerable community members. Kids are helping by following these guidelines, but also by pitching in at home to help the adults keep in touch with elder family members (while practicing social distancing), keeping up with schoolwork, and conserving resources such as paper products—namely toilet paper! During these challenging times, kids and adults can look for inspiration and kinship with the children and families who supported the WWII effort by helping from the home-front.
Scrappy Kids!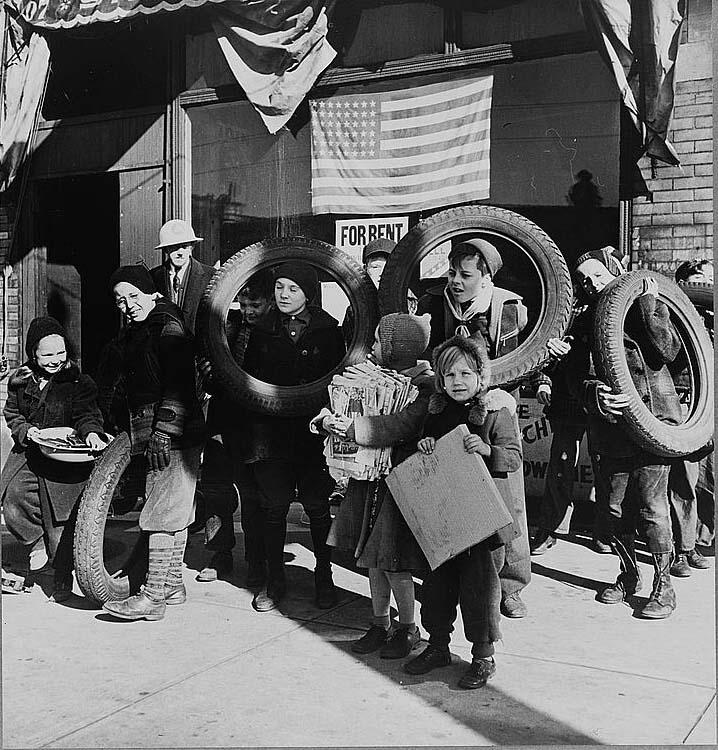 In the 1940s, the term for collecting and reusing needed materials was "scrapping," today we call it "recycling." Scrap metal, rubber, and rags all could be used for the war effort.  During World War II, scrapping was essential to help America win the war in Europe and the Pacific.
Today, we recycle to conserve natural resources and protect the environment. Students can use the example of World War II kids for inspiration to have a positive effect on their world!
The WWII Museum in New Orleans features online content text that tells the story of these "Scrappy Kids" helping to win the war on the home-front:
At this time of the COVID-19 pandemic, the entire country is mobilizing to provide medical devices and personal protective equipment (PPE) for health care professionals. During WWII, the Nation mobilized to support the warfighting efforts, and this video and links below are great resources to learn more:
A Ship is Born (1942) 21-minute Documentary. Features footage of U.S. Merchant Marine training at Port Hueneme during WWII. Nominated for "Best Documentary" at the 1943 Academy Awards.
Seattle Sunday Times (1942) – School for Seaman (Article)
---