"Arty's Amazing Accordion" by Amada Irma Pérez Book Release Party
Free
Amada Irma Pérez is the recipient of numerous literary awards, including:
2004 Pura Belpré Honor Book Award
2000 Tomás Rivera Children's Book Award
Americas Honor Award for Children's Literature
Parents' Guide to Children's Media Award
Independent Publishers Book Award
Skipping Stones Honor Book Award

Amada Irma Pérez has been a bilingual educator, consultant and presenter for more than twenty-five years. Her teaching experience includes kindergarten through university. She is an advocate of programs that encourage literacy and multicultural understanding. She believes that better communication will lead to world peace. Amada Irma Pérez speaks at local, state, national and international conferences and inspires diverse audiences of students, teachers, parents, businesses and community organizations.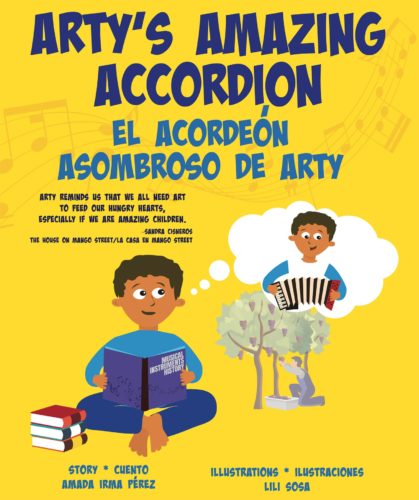 This will be the debut of Amada's new bilingual book "Arty's Amazing Accordion"! Meet Arty, a young musician, as he transforms people's dreams into a song. With hard-work, persistence, and a passion for music, he changes his life and the lives of others he meets. There event will include an introduction by Florencia Ramirez, a reading of a portion of the book, a break for refreshments, a Q&A, and a book signing.
Lili Sosa is a graphic artist and illustrator. She founded and ran a successful design company in Mexico City, working for clients like L'Oréal, Nestlé, and Coty among others. She currently resides in Ventura, CA with her husband and three children. This is their third book together.
Attendees will have the choice to donate her books to local schools. Arty's Amazing Accordion is for kids and adults, ages 6 and up.

Arty and Marco Pérez (father and son duo) will also perform a couple songs for your listening joy.
Learn more at AmadaPerez.com