By Andy Ludlum, Museum Volunteer
Ventura County's first organized baseball game was played in 1873, a time when new rules were beginning to bring America's pastime into the modern era. If you attended a baseball game in the early 1870's, you were likely to see scores more like a modern football game than a typical baseball game of today. Between 1871 and 1873 teams' combined scores were about 20 runs per game.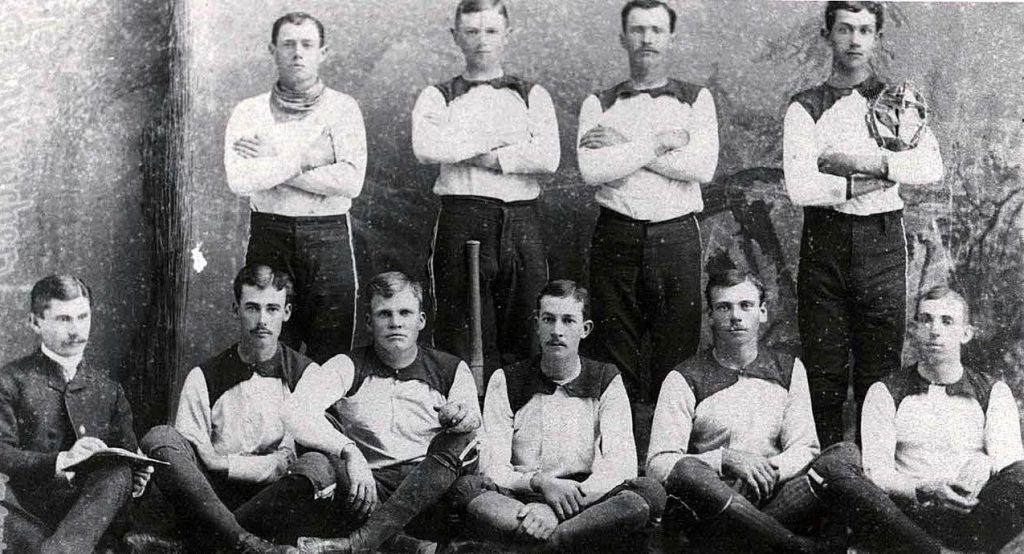 While surviving accounts don't say for certain what rules were used for Ventura County's first game, presumably the amateur players used the rules followed by professional teams in 1873. Pitchers delivered the ball underhand, fielders caught balls with their bare hands and a foul ball that was caught after it had bounced once on the grass was considered an out.
Baseball's Origin is Obscured by Popular Myth
Most cultures have some form of a stick and ball game. Historians generally agree baseball is based on the English game of rounders which became popular in this country in the early 19th century and was called townball, base or baseball.
Most of us grew up believing baseball was invented by Abner Doubleday in the summer of 1839 in Cooperstown, New York. Historians have debunked the Doubleday myth, which was based on testimony in 1907 (14 years after Doubleday's death) by a retired mining engineer named Abner Graves who claimed to have witnessed the first game. But Graves was only five years old in 1839. His description of the game too closely matched the style of play in the early 1900's and Doubleday's own diaries contained no reference to the game or even a visit to Cooperstown in 1839.
Leading up to the Civil War, many towns and cities had formed baseball teams. In September of 1845, Alexander Cartwright formed an amateur social club catering to upper middle-class New Yorkers known as the Knickerbockers. Cartwright drew up a list of baseball rules, which became known as the Knickerbocker Rules. One of the Knickerbocker Rules brought a touch of civility to the game, prohibiting the practice of "plugging" the runner. This is when the fielder would put a runner out by throwing the ball and hitting him. The Knickerbocker Rules required fielders to tag or force out the runner as it is done today. The first baseball game to be recorded took place on Elysian Fields in Hoboken, New Jersey on June 19, 1846. Cartwright's Knickerbockers lost to the New York Base Ball Club, the "New York Nine," 23-1 in four innings.
During the Civil War years, the number of baseball clubs dropped dramatically. But interest in baseball was carried throughout the country by soldiers and by the time the war ended in 1865 there were more people playing baseball than ever before. In 1869 the Cincinnati Red Stockings became the first professional team. By 1870, baseball had split into two groups of professional and amateur ballplayers. While some teams wanted to remain amateurs, there was no way they could compete with the professional teams and within a few years the amateur teams began to fade away.
Ventura County's First Baseball Club Founded 146 Years Ago
The first baseball club was established in October of 1873. The best account of the club's first days comes from the Ventura Pioneer Museum's (which became the Museum of Ventura County) first curator Edwin (E. M.) Sheridan who was writing in the Ventura County Star on October 4, 1927. Sheridan proudly reveals he was the captain of the baseball team. He was 20 years old, having arrived in Ventura County earlier in the year from Missouri with his parents and siblings. Sheridan describes playing baseball when it "was still played bare-handed and the pitcher really pitched the ball and did not throw it."
The October 18,1873 edition of the Ventura Signal described the first organizational meeting, noting that "lovers of the manly game in our town have organized a baseball club…" The meeting was held at the Hill School and "those interested in advancing the enterprise are invited to be present and become members." Several of the club's officers were connected to the Signal newspaper. The President, George F. Adams was a printer on the Signal and John J. Sheridan, partner of W.E. Shepherd in the ownership of the Signal, was the Treasurer. The first team captain, Ed Sheridan, along with his brother Solomon, would take over the newspaper from their brother John in 1879.
The club consisted of nine players who were referred to as the "first nine." The Signal said, "Several of the members have had some experience and all have the mettle to make good players." They had hoped to set up a second team of nine, with which to play games. But Sheridan said they were unable to get a second group of nine regular players to commit at that time.
What Was the First Baseball Game Like?
While you would have recognized the game played in 1873 as baseball, there were several big differences from today's game.
Pitchers threw sidearm or underhand from a pitching box that was just 45 feet away from home plate. (The current distance of 60 feet 6 inches was not established until 1893.) For over a decade, pitchers had been prohibited from winding up and letting their forearm hit their hip to create a whipping action with the ball. But beginning in 1872, pitchers could snap their wrists which brought about the curveball. Pitchers would vary their speed and improve their accuracy as pitching became an important part of their team's defense. As the batters became more aggressive, they began moving toward the pitcher, sometimes many feet, when swinging at the ball.
Balls and strikes were called. Strikes had been called for 15 years to stop batters from taking numerous pitches to tire out the pitcher or give base runners an opportunity to steal. When pitchers began to throw the ball off the plate in hopes of getting the batter to chase bad pitches, umpires began to call these "unfair" pitches as balls. The batter was allowed to call for a "high" or "low" ball. A low pitch was defined as crossing the plate not lower than one foot off the ground and no higher than the batter's waist. A high ball crossed home base between the batter's waist and shoulders.
Bats were round, limited to 42 inches in length and no more than 2½ inches in diameter at the thickest part. (A.T. Pearsall of the Excelsior Club of Brooklyn used a bat 50 inches long and only two inches in diameter during the 1857 season.) By 1873, the baseball's size and weight were regulated; it was softer and had a rubber cork in it. The game would have been played without gloves. The first confirmed use of a glove was in 1875 when a St. Louis outfielder and first baseman used a pair of flesh-colored gloves. The earliest baseball gloves were simple leather gloves with the fingertips cut off. One 1873 rule stated that the ball would be declared dead and all base runners could advance if a player caught the ball in his hat.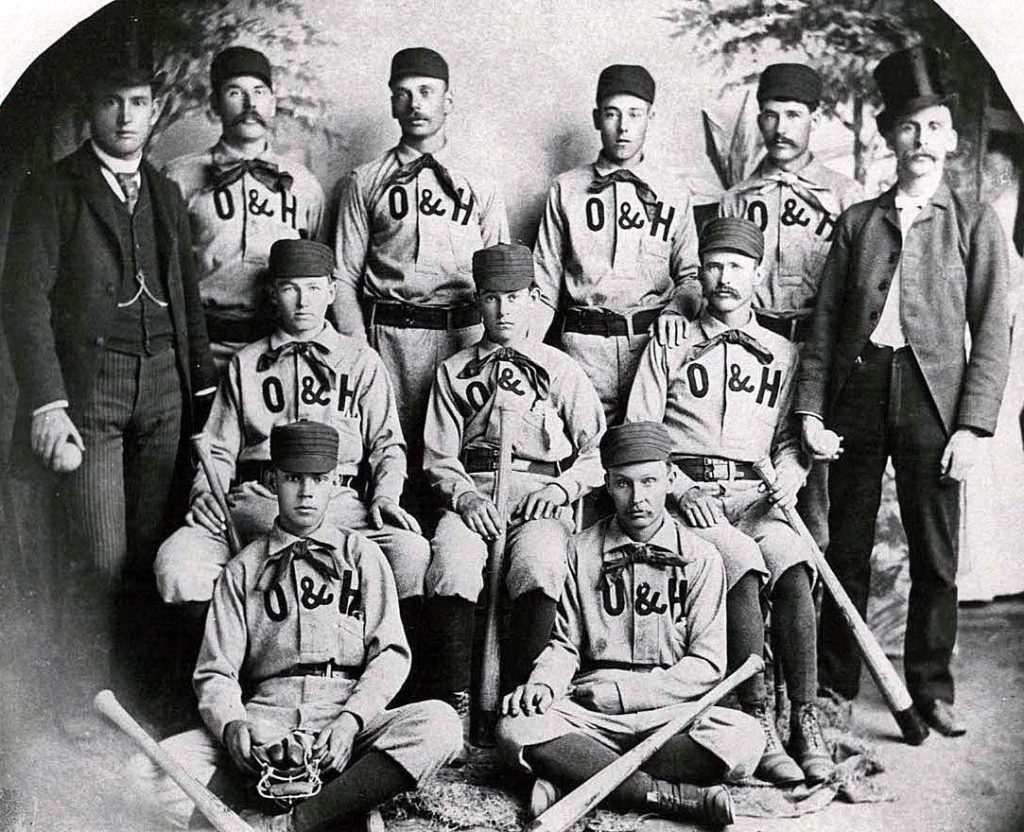 First Baseball Game Was a Slugfest
At 2 o'clock in the afternoon on November 22, 1873 the first nine of the Ventura Base Ball Club played their first game, a "friendly challenge" against a "picked nine of citizens" on the club grounds near the foot of Palm Street, which today is part of Seaside Park. The Signal said, "As the parties are in good trim, we expect to see some fine playing."
What the first fans got was a lot of offense and not much defense. The Ventura Base Ball Club won over the citizens by a lopsided score of 56-17 in seven innings. The scoring included a 15-run 3rd inning and a 20-run 6th inning. Ed Sheridan scored nine runs.
Not many months after that game the club received a challenge from a team in Springville (now located within the City of Camarillo.) Sheridan said they, "went out there full of confidence and came back much cast down. The team there beat the cocky Ventura boys unmercifully, and only darkness prevented a worse defeat."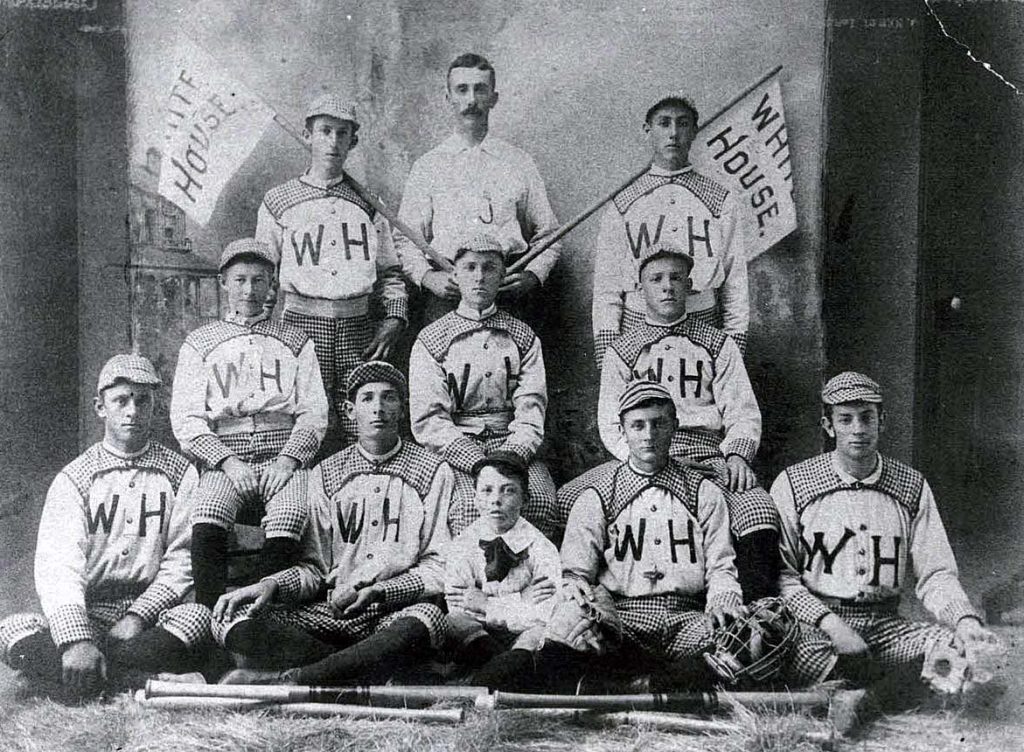 Over the next decade baseball grew in popularity in Ventura County. Teams were supported by local businesses who supplied the player's uniforms in exchange for their name on the jerseys. The games were announced and covered in the local newspapers. Players were no longer amateurs; they were guaranteed a minimum from the ticket sales to enthusiastic fans. The 1902 Ventura Baseball Club included a great player by the name of Mando Rivera. Many semi-pro teams were beginning to pop up all around the county. The Oxnard Aces were notoriously good for decades as were the Santa Paula Merchants. Merchants was seemingly a popular club name, as there were also the Simi Valley Merchants.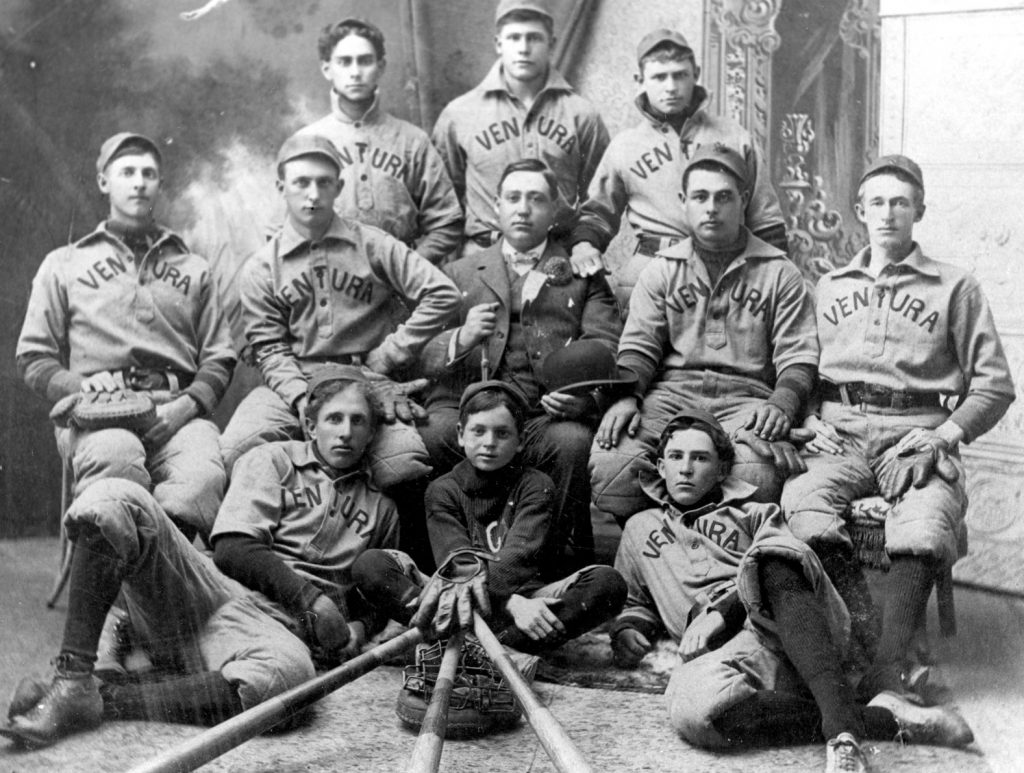 Make History!
Support The Museum of Ventura County!
Membership
Join the Museum and you, your family, and guests will enjoy all the special benefits that make being a member of the Museum of Ventura County so worthwhile.
Support
Your donation will help support our online initiatives, keep exhibitions open and evolving, protect collections, and support education programs.
Bibliography
"Baseball glove." Wikipedia. n.d. https://en.wikipedia.org/wiki/Baseball_glove.
"Baseball Rule Change Timeline." Baseball Almanac, Inc. n.d. https://www.baseball-almanac.com/rulechng.shtml.
"The Batter's Area and Position (Pre-1856 to 1873)." 19c Base Ball. Last modified 2016. http://www.19cbaseball.com/field-3.html.
"The Beginner's Guide: 6 Need to Know Facts About Vintage League Baseball." Phoenix Bats. Last modified August 19, 2014. https://www.phoenixbats.com/blog/the-beginners-guide-6-need-to-know-facts-about-vintage-baseball/.
Cohen/The Jersey Journal, Michael. "1873-style baseball is safe at home in Hoboken." NJ.com. Last modified January 18, 2019. https://www.nj.com/hobokennow/2010/06/1873_style-baseball_is_safe_at.html.
"History of baseball in the United States." Wikipedia. n.d. https://en.wikipedia.org/wiki/History_of_baseball_in_the_United_States.
Lahman, Sean. "A Brief History of Baseball." SeanLahman.com. Last modified 1995. http://www.seanlahman.com/baseball-archive/brief-history-of-baseball/.
Maulhardt, Jeffrey W. Baseball in Ventura County. Charleston, SC: Arcadia Publishing, 2007.
"The origins of Baseball." World Baseball Softball Confederation. n.d. http://www.wbsc.org/baseball/history-of-baseball/.
Rogers, Mike. "Exploring the Rule Changes of the 1870's." SBNATION. Last modified January 19, 2011. https://www.beyondtheboxscore.com/2011/1/19/1943661/exploring-the-rule-changes-of-the-1870s.
"Rules and Customs." Vintage Base Ball Association. n.d. https://vbba.org/rules-and-customs/.
Santillan, Richard A., Christopher Docter, Anna Bermudez, Eddie Navarro, and Alan O'Connor. Mexican American Baseball in the Central Coast. Charleston, SC: Arcadia Publishing, 2013.
Sheridan, Edwin M. Sheridan (E. M.) collection, circa 1800s-1900s. Museum of Ventura County, n.d.
Thorn, John. "David Voigt's History of Baseball." MLB.com/Blog. Last modified January 19, 2016. https://ourgame.mlblogs.com/david-voigts-history-of-baseball-72438d8967f7.
Young, Michael. "Baseball, Immigration, and Professionalization in the 19th century, Undergraduate Honors Theses." College of William and Mary. Last modified May 2011. https://scholarworks.wm.edu/cgi/viewcontent.cgi?article=1376&context=honorstheses.