Feb
23
Sat
Townies Unite! Local "The Townies Podcast" Brings Free Block Party To The Museum

@ Museum of Ventura County
Feb 23 @ 7:00 pm – 10:00 pm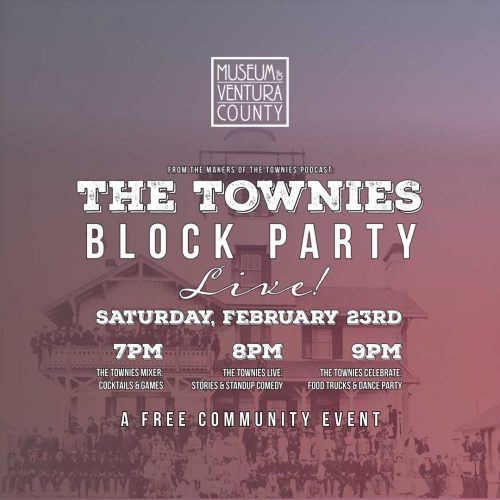 Every town has its stories, and Ventura County's beloved The Townies Podcast is ready to prove it by bringing their biannual Block Party – a free community event – to the wonderful Museum of Ventura County on Saturday, February 23rd at 7:00 pm.
This Block Party will be a festive blend: live performances of hilarious, poignant, inspiring and flat-out cringeworthy tales that all can relate to by local writers and comedians, plus food trucks, no-host bar and a very special treat – a post-show dance party DJ'd by local musician Mikael Jorgensen, keyboardist of the legendary band Wilco.
The Townies Podcast began in 2017 as a biweekly collection of live original stories and music, written and performed by friends, neighbors and strangers who live here in Ventura County. The writer/performers of the podcast have all developed their stories in Kim Maxwell's 10-week writing & performance class (which she has been teaching in VC for 25 years) – some of these performers are professionals and some have never been on a stage before. But they all have compelling stories to tell.
In addition to her Ojai classes and shows, Kim has also cofounded many other projects in Ventura County including the internationally-renowned Ojai Playwrights Conference and the dearly missed Theater 150. A long-time resident of Ventura County, Kim loves and has dedicated herself to the arts community here – she received a Lifetime Achievement in the Arts Award from the City of Ojai in 2013. In collaborating with the Museum of Ventura County to bring this biannual event to their lovely downtown Ventura facility, Kim hopes to connect with even more local folks with stories of their own.
The Block Party begins at 7:00 pm with a cocktail party in the courtyard of the Museum of Ventura County, at 100 East Main Street in Ventura, followed by an hour of the best of the best of Townie stories starting at 8:00 pm in the Museum's lovely Martin V. and Martha K. Smith Pavilion. Then the night continues in the courtyard with food trucks, games, awesome merchandise and a killer DJ set by Mikael Jorgensen for dancing pleasure.
For more information, visit thetowniesinc.org – questions can be submitted through the form on thetowniesinc.org/contact.
Feb
24
Sun
From the Ashes Up

@ Museum of Ventura County
Feb 24 @ 3:00 pm – 4:30 pm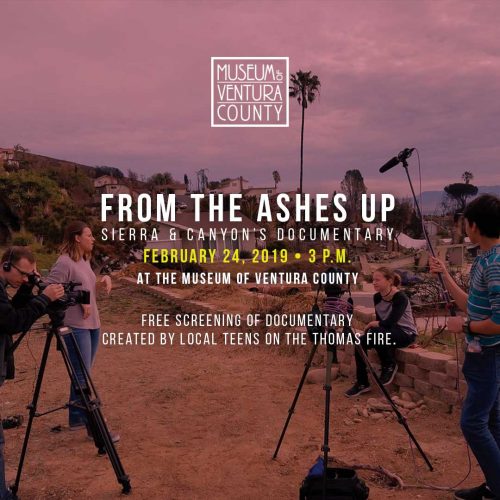 The Museum of Ventura County is honored to host a screening of "From the Ashes Up", a documentary on the Thomas Fire created by two local teens.
The screening will be on Sunday, February 24, 2019 at 3 p.m., and will be followed by a Q&A with the filmmakers. The screening is free to attend.
Note from the Filmmakers:
Sierra, 17, and Canyon, 13, are ready to INSPIRE and MOTIVATE the world! They are a brother and sister duo team, directing, writing and producing an uplifting documentary for you.
On December 4th, 2017, with 15 minutes to evacuate, we lost our home and everything in it, to one of Southern California's largest wildfires in history — the Thomas Fire, which consumed over 1,000 homes and structures in just a few days. This tragic event has inspired us to make a motivational documentary about those deeply affected by the fire and how they transitioned from fire victim to VICTORY, in a short amount of time.
Mar
10
Sun
Camerata Pacifica Presents Ives & Beethoven

@ Museum of Ventura County
Mar 10 @ 3:00 pm – 5:00 pm